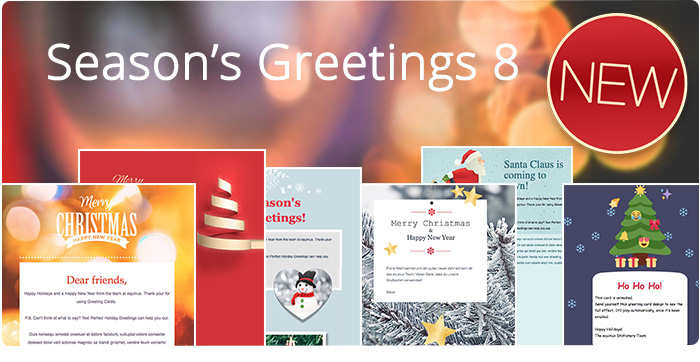 Every one of our Greeting Card collections for Mac users offers a variety of professional greeting card with great design variations. Whether you're searching for the perfect email design, or looking for inspiration, Greeting Card collections are ready for you.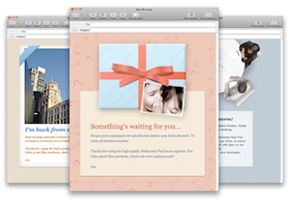 BESTSELLER Stationery Pack 1
Add 111 high-quality stationery templates to Mail in Mac OS X. Send holiday greetings, invitations, congratulations, and much more. Enhance your email with Stationery Pack!
Take a look

Choose your greeting cards
Looking for some inspiration for your birthday greetings?
Text Perfect Birthday Wishes
provides you with more than 150 different greeting cards messages.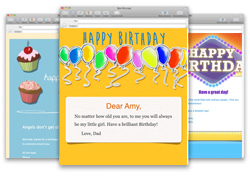 Birthday Cards 2
Say Happy Birthday by email — with Birthday Cards 2 for your Mac! Surprise friends and family with more than just another post on Facebook. Delight your loved ones with a personal Birthday message. 38 designs — perfect for every Birthday.
Take a look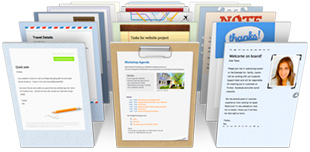 Team & Business Communication
Clean up the chaos surrounding your business mails with more than 40 stationery template ideas covering: meetings, news, business partners, and more - for both internal and out going email. Enhance Apple Mail and improve productivity for your business with Team & Business Communication for Mac OS X. Increase productivity
Stationery Pack Business Edition
Add over 200 templates to Apple Mail on your Mac with Stationery Pack Business Edition. Featuring 12 new design lines and 17 variations of each, you can tailor professional emails with photos, company logo, and your very own signature.
Take a look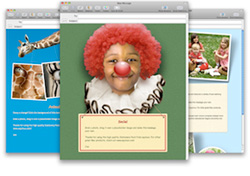 Stationery Pack 2
Turn your favorite photos into Apple Mail greeting cards and personalize many Stationery templates with a click of the mouse. Stationery Pack 2 features 122 email stationery templates which can be transformed into 660 different designs.
Take a look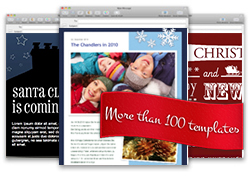 Season's Greetings
With more than 180 different Stationery Season's Greetings cards for Apple Mail, you're guaranteed to never miss a festive beat during the holiday season. Get inspired and share your joy with family, friends, and even business partners. The Season has almost started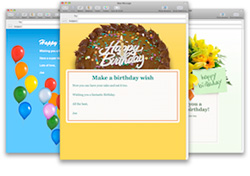 Birthday Cards
Say Happy Birthday from your Mac in style with personalized birthday greetings. Choose from 32 brand new humorous and heartfelt designs. Send quality birthday greetings to friends, family or colleagues directly from Apple Mail.
Take a look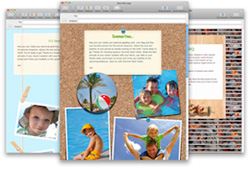 Summer Spirit Cards
Summer Spirit Cards are the perfect way to share your favorite vacation pics along with the stories behind them. Invite your friends to the next BBQ, tell 'em about your last trip, or simply send the perfect sunny wishes directly from your Mac.
Take a look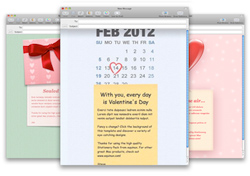 Love and Romance
Whether Valentine's Day or not, tell loved ones how much you care. Frame your special message in one of these seven beautiful Mac email templates. Take the time to pen your thoughts and say exactly how you feel.
Take a look